Spring is lurking but winter is still there: let's test some oils again.
Since I've been running out of the very expensive May Lindstrom Blue Cocoon, I wanted to find a nighttime treatment that would add the soothing proprieties of Blue Tansy. I liked Blue Cocoon, but somehow I am not the greatest fan of balms, even if they liquidify into a soft oil when warmed.
I found
Herbivore Oil Balancing Lapis face oil
with blue tansy on Sephora, but found out that their
Etsy shop
had samples. I have found most facial oils too heavy on my face lately; a tester would be better before the full splurge.
And how to resist the Orchid Youth Preserving Facial Oil? I mean, the terminology on 'age-battling' has become a lot more creative and friendly lately.
So two oils. The difference between the Lapis (above) and the Orchid (beneath) is clearly in colour.
Let's take a look at my 1st choice: the Herbivore Lapis Oil Balancing oil:
It is such a relief to see the blue Tansy represented in the oil: that gorgeous aqua blue hue. I do not exactly need an oil that targets for balanced skin, anyway, blue tansy does so much more than oil regulating. It is a potent anti-inflammatory oil which benefits both restless acne skin as my older, sensitive-prone complexion.
The Jasmine Sambac smells amazing in a soft, soothing manner. Nothing too cloying for a sensitive nose. I am also delighted about the lightness or dry feel of the oil: It feels so light and still moisturizes plently. I had experimented with a couple of older favourites this winter that felt too heavy on me. Hence, I skipped the face-oils for a while and my dryer skin was the result of this. This is one of the first oils I can feel it bringing the right amount of moisture to me again!
Herbivore Orchid Youth Preserving Oil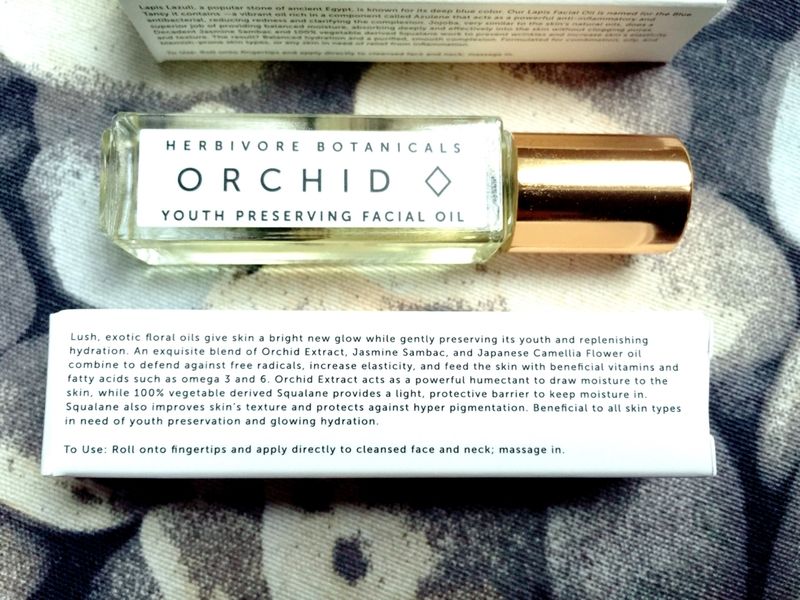 This oil has the familiar hue of lighter yellow that is recognizable. It also feels like a light oil, though it is a tad thicker than the Lapis version. I am deeply in love with the blend of Orchid with the Jasmine, scentsational!

Camillia flower oil is one of my favourite oils around. A good version is also expensive and not so easy to find in the West. The addition of Squalane gives this oil enough lightness for me to tolerate.
And I really like the roller-ball that comes with the travel size: you can have the benefits of a micro-massage and the delightful-ness of the ingredients.
Right now, I feel I wake up glowier with the Orchid Youth Preserving oil than with the Lapis Oil Regulating one. Both oils feel like they calm down my flaky bits. I have only used both a couple of times so I think I will have to continue a while with one version before I can bring out a good, rounded review. Also, I might like the richer Orchid for this time of year and will probably enjoy the lighter Lapis one when the weather becomes warmer.
Overall, I feel glad to have found not only one, but two oils that feel like a delicate treat on my skin
(instead of a nuisance)
. I think I will purchase the larger bottle of the Orchid Youth Preserving oil soon, and during spring I might purchase the Lapis Oil Regulating one.